Happy Independence Day to all of my U.S. friends, and well, happy Wednesday to everyone else.
Last week when Karen and I were in Chicago, we went to one of my favorite restaurants, El Ideas where you have incredibly laid-back 12-course fine dining experience of "experimental' food.
Here is a picture of our first course: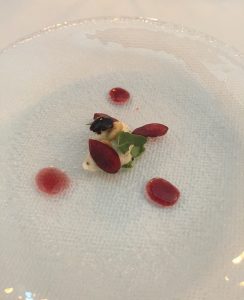 Purty, ain't it?
After the course was brought out the chef explained what it was, turned to walk back into the open kitchen, stopped, look back and said to his guests, "Oh, you might have noticed you don't have any silverware. We want to make this a fun, community dining experience where you get to know your neighbors. I can't think of a better way to do that than by having you lick your plate clean." Everyone proceeded to do just that and the evening was kicked-off in fine fashion.
The chef got everyone engaged in the experience instead of having people just passively eating food. Getting your customers and prospects engaged is one of the keys to getting better results with your sales and marketing efforts. Here are some ways to do that in different forms of media:
Selling from the Platform: Get people to raise their hand, repeat after you, etc.
Selling in a Webinar: Answer a polling question, type into the chat box, etc.
Email, Facebook, Blogs: Get people to comment.
Direct mail: The ever-classic "put this sticker here" ploy.
How can you get your customers and prospects more engaged with what you're doing?
By the way, whether you celebrate the Fourth or not, let's all be grateful for the independence being an entrepreneur affords us.
Kick butt, make mucho DEEnero!
Dave "Lick Your Plate Clean" Dee
P.S. If you're interested in learning how to use webinars to sell your products and services, I have a brand new "crash course" that'll reveal how to do it, regardless of the business you're in. Check it out here: